I grew up on 41st Street between Clark and Wright, in the Sherman Park neighborhood. Driving by my old house the other day reminded me why we do what we do. It was not familiar. At first I thought this was because the brush was overgrown outside, the cedar shake had barely any paint left, and the roof was failing. It was generally neglected in terms of maintenance, and not how my family kept it.
The reality is it wasn't even all that bad, and the owner was likely just doing their best. And at least it was still standing, not demolished and thrown in a dump, and handn't been abandoned or vandalized. Then I realized what was different had nothing to do with maintenance; not the paint, shingles or plants. It had absolutely nothing to do with the house.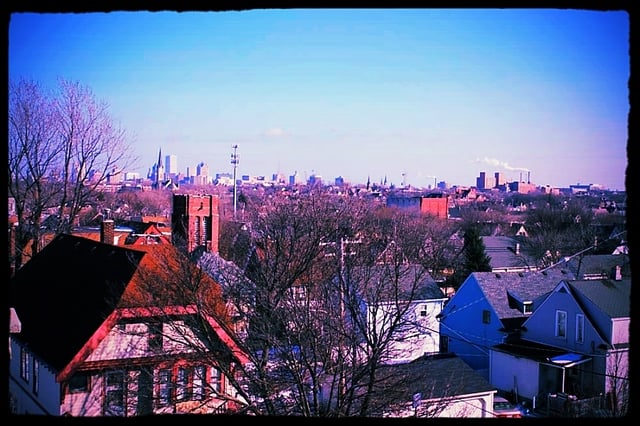 I remembered the block. I remembered the games of football in the street (with blockers and the nerf ball that whistled) and all the block parties. I remembered this wild rhubarb patch where we used to snatch a stalk and chew it with a sour face, and all the games of tag over a fence and under a jungle gym. I remembered playing basketball in the alley off the garage and cans on the sidewalk; hitting it from 3 lines back to come back…do you remember that?
Most of all I remembered the people on the Block. I remembered Big Al, Alison, Kevin, Karen, Anthony, Danny, Claudia, Lorena, Flor, Jeff, Melvin, and the Kastenholtz. I remembered, Jerry "the grandfather", who sat on the stoop and smoked a sweet tobacco pipe, but never talked.
A neighborhood sounds nice; I've been to some. There's one on East North Avenue, one off of Brady Street, one in the 3rd Ward, off of Downer, in Riverwest, and several others are emerging or going strong. I do not think I grew up in a neighborhood. I grew up on a Block.
Today it's not that different. 1st and Locust, in the Harambee neighborhood, feels the same way. It's home because of Peggy, Angie, Chuckie, Michelle, and Frida. I know them because they're kind and we care about each other. We've become neighbors. I like my neighborhood because of them. A Block defines how we feel about a neighborhood. If we hate the block, the neighborhood is bad. Yet on so many central city blocks, we have decent, hardworking people that are cool, confident, and strong.
Let's remember the Block, or at least let us introduce you to the people that create strong blocks in our City. Block by block, maybe we can create a neighborhood.